Mrs Harcourt
Which Mrs Harcourt?
In October 1844, at the end of the BAAS conference, Hill and Adamson moved their equipm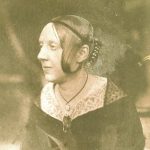 ent to the Archbishop's Palace at Bishopthorpe, and took photographs of his family. There are a number of photographs entitled "Mrs Harcourt", but they are clearly of two different individuals – we have images of two Mrs Harcourts.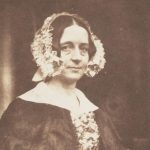 Bob Hale, YPS Archivist, has researched the details of the archbishop's family, and has established that these two ladies must both be daughters-in-law of the archbishop. Further, he believes that, for a number of reasons, only three of the archbishop's nine surviving sons  could be their husbands, and the two most likely gentlemen are William Vernon Harcourt – YPS Vice President, and a very important figure at the conference, and Octavius, Capt RN, later rear- and vice-admiral, who was also present at the conference. The third, less likely, contender was Frederick, who also became an admiral.
We have some information about the wives of these three gentlemen:-
William's wife was Matilda Mary, née Gooch (1804-1876) who would have been 40 in 1844
Octavius was married to Anne Holwell, widow of Wm Danby of Swinton Park (YPS member & donor). She was about 50 in 1844, and a donor to YPS in her own right.
The outside chance is Marcia, Frederick's wife. However, a drawing of Marcia in 1845 is in the possession of the National Trust, and can be seen by clicking on http://www.nationaltrustcollections.org.uk/object/1429830 It in no way resembles either calotype, so I think we can rule her out.
So it would appear that we have to decide which of the two photographs shows Anne, aged about 50, a wealthy widow now remarried, and which is Matilda Mary, aged 40. What do you think? Information on seeing larger versions of the portraits can be found  below.
Margaret Leonard 24/02/2019
Image credits
Banner credits on Calotype Project Group page
Portraits on this page are Calotypes taken by David Octavius Hill and Robert Adamson, licensed from the National Galleries of Scotland.
The portrait on the left of the page has title:- 'Mrs Harcourt 1'. Clicking on the following link will allow you to see a larger version:-https://www.nationalgalleries.org/art-and-artists/68282/mrs-harcourt-1   A different photo of the same lady can be seen by clicking on:-  https://www.nationalgalleries.org/art-and-artists/68284/mrs-harcourt-1-b
The portrait on the right of the page has title:-'Mrs Harcourt 2' , but only the negative is available.  Click on the following link:- https://www.nationalgalleries.org/art-and-artists/68286/mrs-harcourt-2 . Clicking on https://www.nationalgalleries.org/art-and-artists/68288/mrs-harcourt-2-b   will give the negative of a second photo.