Mrs Harcourt
Which Mrs Harcourt?
In October 1844, at the end of the BAAS conference, Hill and Adamson moved their equipm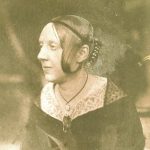 ent to the  Archbishop's Palace at Bishopthorpe, and took photographs of his family. There are a number of photographs entitled "Mrs Harcourt". The collection in the Scottish National Portrait Gallery comprises eight items, but as some of these are negatives, and one is a duplicate print, these seem to represent four photographs, two of each of two different ladies, labelled by SNPG as  Mrs Harcourt (1)[a} through to Mrs Harcourt (2)[b].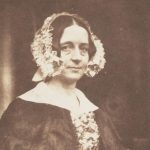 Bob Hale, YPS Archivist, has researched the details of the archbishop's family, and has established that these two ladies must both be daughters-in-law of the archbishop. He writes:-
The younger of the two, shown right, in strangely period costume, is almost certainly Matilda Mary, née Gooch (1804-1876), the wife of Rev William Vernon Harcourt [life member BAAS in 1844] and 15 years his junior. Harcourt, 4th son, 3rd surviving, of the Archbishop, was the YPS's first president and leading light, co-founder of the BA in York in 1831 and its general secretary till 1837*.
Because of Rev Wm V Harcourt's central role in the 1844 meeting, life member of BAAS, this must surely be his wife, aged about 40. Another 9 of Archbishop Harcourt's 11 sons survived, but only 2 other Mrs Harcourts are possible:
1. George Granville, eldest son, 1785-1861, MP, was in 1844 widowed (1838) and did not remarry till 1847.
[2. Edward, 2nd son, 1787, died?]
3. Leveson, Rev, 1788-1860, was married to Hon Caroline, about 53 in 1844 – NO: he lived in London and Sussex, "seldom went to York" (biographies), and she was titled. Moreover, he was not listed as a BAAS member in 1844, and had written 'Doctrine of the Deluge' in 1837 insisting geologists revise their conclusions to fit scripture. Hardly likely therefore to have been at Bishopthorpe on this occasion.
4. William, 1789-1871, above.
5. Frederick, 1790-1883, naval officer, admiral, was married to Marcia, who was about 40 in 1844 – POSSIBLE, BUT he was only in YPS 1824-c.1830 and was not listed as a BAAS member in 1844, whereas 5 brothers were. Also, a drawing of Marcia in 1845 is in the possession of the National Trust, and can be seen by clicking on http://www.nationaltrustcollections.org.uk/object/1429830 . It in no way resembles either calotype.
6. Henry, 1791-1853, Lt-Col, married to Lady Frances, i.e. she wouldn't be called Mrs H.
7. Granville, 1792-1879, politician/barrister, chancellor of Diocese of York, like George above, was recently widowed (Feb 1844) and yet to re-marry.
8. Octavius, 1793-1863, Capt RN and life member BAAS in 1844, later rear- and vice-admiral, was married to Anne Holwell, widow of Wm Danby of Swinton Park (YPS member & donor). She was about 50 in 1844 – so PROBABLE, as SNPG also has a calotype of Capt Harcourt, PGP HA 1066, dated 1844, though no image online.
9. Charles, 1798-1850, Rev, of Rothbury, Canon of Carlisle, life member BAAS, but unmarried.
10. Francis, 1801-1880, Col, later MP, married Lady Catherine, daughter of Earl of Liverpool – NO.
11. Egerton, 1803-1883, barrister, life member BAAS but unmarried, only married 1859
CONCLUSION: The 2 'Mrs Harcourt' calotypes feature Rev William's wife, described above, and Capt Octavius's wife, Anne Holwell. Shown above on the left, she is the older of the two, wearing a lace cap.
* [In 1970 Burke's gave a descendant of William and Matilda, the 2nd Viscount Harcourt of Stanton Harcourt and Baron Nuneham, as Sir William Edward Harcourt, born 1908, succeeded his father 1922, seat: Stanton Harcourt, Oxon. He died without a male heir on 3 Jan 1979, when his title became extinct.]
Notes amended 19/3/2019 at York Explore, from Burke's Peerage, under 'Vernon': Bob Hale 30/3/2019
Image credits
Banner credits on Calotype Project Group page
Portraits on this page are Calotypes taken by David Octavius Hill and Robert Adamson, licensed from the National Galleries of Scotland.
The portrait on the left of the page has title:- 'Mrs Harcourt 1'. Clicking on the following link will allow you to see a larger version:-https://www.nationalgalleries.org/art-and-artists/68282/mrs-harcourt-1   A different photo of the same lady can be seen by clicking on:-  https://www.nationalgalleries.org/art-and-artists/68284/mrs-harcourt-1-b
The portrait on the right of the page has title:-'Mrs Harcourt 2' , but only the negative is available.  Click on the following link:- https://www.nationalgalleries.org/art-and-artists/68286/mrs-harcourt-2 . Clicking on https://www.nationalgalleries.org/art-and-artists/68288/mrs-harcourt-2-b   will give the negative of a second photo.
ML14/04/2019