Mrs Harcourt
In October 1844, at the end of the BAAS conference, Hill and Adamson moved their equipment to the Archbishop's Palace at Bishopthorpe, and took photographs of his family. There are a number of photographs entitled "Mrs Harcourt". The collection in the Scottish National Portrait Gallery comprises eight items, but as some of these are negatives, and one is a duplicate print, these seem to represent four photographs, two of each of two different ladies, labelled by SNPG as  Mrs Harcourt (1)[a] through to Mrs Harcourt (2)[b].
Neither of them was Archbishop Edward Harcourt's wife Anne: she had died in 1832, and he was now almost 87. These two women must both have been daughters-in-law. As well as five daughters, he and Anne had had eleven sons, ten of them surviving. At the time of the 1844 meeting two of the ten were bachelors, two, like the archbishop, were widowers, and three had married titled ladies. Only the remaining three sons were therefore married to a 'Mrs Harcourt'.
One was the Rev William Vernon Harcourt, 4th son (1789-1871), whose wife was Matilda Mary, née Gooch (1803-1876), 15 years his junior, and 41 in October 1844. We suggest she is Mrs Harcourt 2a, shown right, in strangely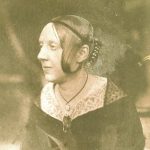 period costume. Unfortunately, no calotype is known of William, the YPS's first president and leading light, co-founder of the BAAS in York in 1831 and its general secretary till 1837. Yet as he was the principal organiser and host in 1844, Matilda would probably have been with him at the Palace when Hill and Adamson visited.
The second was Admiral Frederick Vernon-Harcourt, 5th son (1790-1883), married to Marcia, née Tollemache, who was also about 40 in 1844. However, Frederick's membership of the YPS had lapsed as far back as 1830, and he was not listed as a BAAS member in 1844, whereas five of his Harcourt brothers were. So it is less likely that he and Marcia were present in York for the meeting.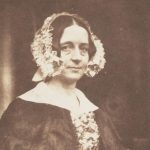 Thirdly, there was Capt Octavius Vernon Harcourt, the appropriately named 8th son (1793-1863), naval officer and life member of the BAAS, who had married Anne Holwell, widow of William Danby of Swinton Park. She was 48 in 1844, and we suggest she is Mrs Harcourt 1a, shown left. There are three reasons for linking her to the 1844 conference and Hill and Adamson's work: first, William Danby had been a prominent YPS member and major donor of specimens to the Yorkshire Museum; secondly, she herself, after his death in 1833, had become the first recorded female member of the Society; and thirdly, there is also a calotype of Capt Harcourt himself, dated 1844 (SNPG ref PGP HA 1066, though this image is not available online).
We have chosen Mrs Anne Holwell Danby Harcourt for our exhibition.
Anne Holwell was born at Exeter on 1 January 1796. She married William Danby Esq. of Swinton Park near Masham, North Yorkshire, on 5 January 1822 as his second wife, his first having died the previous year. Anne was 44 years younger than him, and they were together only eleven years before he died, leaving no children. William Danby, son of a clergyman, Eton and Cambridge educated, was a writer on moral philosophy and collector of antiquities. His family had owned the Swinton Park estate since 1517. He was a man of considerable wealth. He had rebuilt the hall to designs by James Wyatt and John Foss of Richmond in 1820, had his own 'museum of curiosities' and had built a henge known as the Druids' Temple in the park. Within four months of the foundation of the YPS in 1823 he was elected a member, and in 1824 was made a vice-president. He made numerous large donations of specimens from his own collections, and contributed a total of £120 to the Yorkshire Museum building fund, a sum worth many thousands of pounds today. He saw it built and opened before he died at the age of 81 in December 1833. Mrs Danby subscribed as a member in his place until 1837.
On 22 February 1838, Anne Holwell Danby remarried, to Capt (later Admiral) Octavius Vernon Harcourt. They had no children, but she was a firm believer in providing education for other people's. Masham National (Church of England) School had been erected in 1834 entirely at her expense. Twenty years later, as there was already a grammar school for boys, she built and endowed a free school for twelve girls, with room for another twelve whose fathers could afford to pay. She later built an infants' school in Swinton in 1875. In 1853 she endowed six 'substantial' almshouses in the town, to which her husband added a further four in 1858, each of the ten residents receiving five shillings a week. Admiral Harcourt died in 1863. Anne continued to live at Swinton Park thereafter, and in the 1871 census, when she had two visitors staying with her, she was attended by 17 servants. (Swinton Park is now a hotel. William Danby's Druids' Temple can still be visited just west of Ilton nearby.)
Upon Anne's death on 26 June 1879, a lengthy account of her funeral at Masham church appeared in the Harrogate Advertiser of 5 July. A long cortege of carriages was followed by a procession of servants from the estate and children from her charity school. Other schoolchildren from Swinton and Masham lined the route. She was buried beside her first husband William, and close by the grave of her second, Admiral Octavius. "In the presence of so large an assemblage of persons as is rarely to be seen in Masham," reported the Advertiser, "the mortal remains of Mrs Danby Vernon Harcourt were on Thursday laid to rest in the ancient burying place of the Danbys, at the east end of the south aisle of Masham Church, with all those tokens of respectful attention which befitted her great age and the revered position she had so long held amongst her tenantry and neighbours."
Principal sources for the text: Yorkshire Philosophical Society archives; Burke's Peerage; Directories, Yorkshire N & E Ridings, York Explore library; Oxford Dictionary of National Biography online; Wikipedia; British Newspaper Archive: Harrogate Advertiser, 5 July 1879; Ancestry.com; Findmypast.co.uk.
Bob Hale, July 2019
Image credits
Banner credits on Calotype Project Group page
Portraits on this page are Calotypes taken by David Octavius Hill and Robert Adamson, licensed from the National Galleries of Scotland.
The portrait on the left of the page has title:- 'Mrs Harcourt 1'. Clicking on the following link will allow you to see a larger version:-https://www.nationalgalleries.org/art-and-artists/68282/mrs-harcourt-1   A different photo of the same lady can be seen by clicking on:-  https://www.nationalgalleries.org/art-and-artists/68284/mrs-harcourt-1-b
The portrait on the right of the page has title:-'Mrs Harcourt 2' , but only the negative is available.  Click on the following link:- https://www.nationalgalleries.org/art-and-artists/68286/mrs-harcourt-2 . Clicking on https://www.nationalgalleries.org/art-and-artists/68288/mrs-harcourt-2-b   will give the negative of a second photo.
ML14/04/2019