The Clerk in a City
Friday 9th July 2021
A World Upside Down
A journey to Ely takes you across one of the most striking landscapes in the country, where roads, railways and even rivers and ditches run on banks between the arable fields.  Drained over centuries to make it suitable for growing crops, the marshy peat-rich Fenland has dried out and shrunk until in some places the ground surface is over 10 feet lower than it was originally.  Some of the early drainage work was carried out in the mid-17th century by Dutch engineer Sir Cornelius Vermuyden, who had earned his fame and knighthood by draining the old royal hunting ground of Hatfield Chase, and later dug the Dutch River linking the River Don to the Ouse at Goole.  The landscape of that area is as unusual as the Cambridgeshire Fens.  Driving from Goole to Adlingfleet through the watery sounding Swinefleet, Reedness and Ousefleet, you can see for miles across the flat fields, except to your left where a massive bank protects you from the Ouse, giving the disquieting feeling of being below water-level.  The impression of a topsy-turvy world only increases when you reach Whitgift, where the number at the top of the church clock dial is XIII.
The drainage of the Fens is explained in Ely's splendid little museum which has mastered using a small number of carefully chosen artefacts to present a wealth of history.  Lockdown provided an opportunity to do some work on the building, so the latest displays feature items found under floorboards as well as a "Covid collection" of face masks, Self Test Kit and crocheted rainbow.  Generous provision of hand sanitizer means interactive displays and handling objects are still available; I'm afraid I may have left sticky fingerprints on the touchscreen of animated Fenland myths.
I wish the Yorkshire Museum an equally successful re-opening today.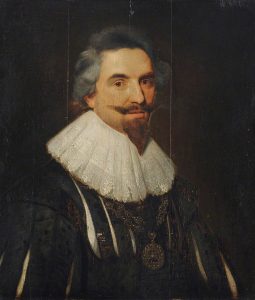 Cornelius Vermuyden, after Michiel Jansz. van Miereveld