The Clerk in the Country
Friday 21st May 2021
Dino-birds
Unusually, my visit to the Lodge to dispatch our latest newsletter took place in warm sunshine rather than torrential rain, allowing me to take a leisurely look around the Museum Gardens as I walked to and fro.  My eye was caught by a group of Wood Pigeons, instantly recognizable since I made the effort this spring to distinguish between the various different birds around here which I have always grouped together simply as "pigeons".
The Woodpigeon (Columba palumbus) is the largest, 16" long according to my big bird book, mainly grey with a pinkish breast, white patches on the neck, a black-tipped tail and, in flight, a white stripe across each wing.  The pair nesting behind the house are a devoted couple, feeding together, courting with a series of coquettish slow hops answered with deep stately bows, and quite inseparable until sitting on eggs brought a division of duties.
When walking, the Woodpigeon's rolling gait always puts me in mind of a lecture many years ago by Professor Phillip Manning (then Dr Manning and a curator at the Yorkshire Museum) who explained to us that dinosaurs had not actually become extinct but some types had evolved into birds ("dino-birds", as he memorably described them).  There is nothing frighteningly dinosaur-like about the Woodpigeon … unless you are a farmer.  A flock of them descending on an arable field can easily ravage a crop.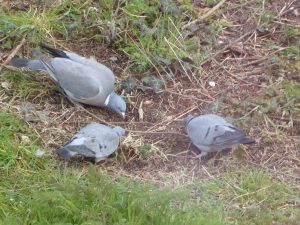 The photo shows a Woodpigeon with smaller Stock Doves.
All YPS members should by now have received our May Newsletter.  Interested non-members can see it here – YPS Newsletters –  and perhaps after reading page 9 may like to consider joining us.