The Clerk in the Country
Friday 20th May 2022
A walk in May
As pandemic restrictions have eased and life has returned to more normal routines, I find that my walks into the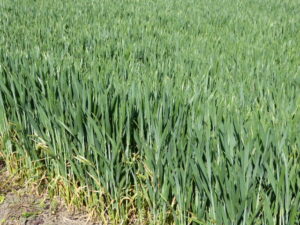 countryside have become less frequent, but in glorious sunshine last Saturday I headed out to see what's going on.
I'm not an expert but the crops look good this year   My "favourite" field is thick with wheat (left), while oil seed rape is nearing the end of luxuriant flowering, just as the May blossom is reaching its peak, taking its turn as a food source for insects.  I was pleased to see that every step roused a variety of small flying things.  Had I been a car number plate, I'd have needed a jolly good clean by the end.
In the heat there were plenty of insects up in the air too, being hunted by Swallows so high overhead that it was easier to hear than to see them.  Their constant twittering sounded like a conversation – "lots to eat over here", "mind your backs; swooping through", "round I go again", "this is nice, isn't it?"  It was indeed.