Two hundred years ago (approximately) …
Friday 10th February 2023
An American in York
Audubon's Birds of America was one of the Society's most prized possessions: sadly, our copy was sold in 1947 for £2,700 when the Society found itself in straitened circumstances. A copy was recently sold at auction for £6.5 million.
How did such a treasure come to be in York?  The answer as always, comes from archives.
To publish on the scale of Birds of America was a complex operation, involving negotiations with many engravers and printers, rounding up wealthy subscribers, and putting together various subscription 'packages' for the delivery of the 'product' by instalments. In one instance, for example, plates were issued in monthly packages – five birds. Including one large, one medium, and one small, text separate, subscriber to arrange own binding –  which avoided the legal obligation (and expense) of giving copies of a very expensive book to the national Libraries of Deposit.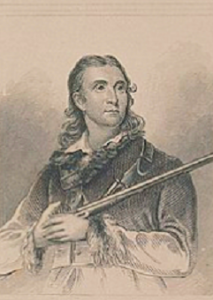 John James Audubon therefore had to be entrepreneur as much as author and artist, before his great work could see the light of day. This necessitated extensive promotional tours, in North America and Europe.  One such tour brought Audubon to York, and into contact with the Yorkshire Philosophical Society.
Luckily, he kept a journal of his travels, which may have originated as a series of letters to his much-missed wife Lucy: nearly every daily entry began with a morning greeting and an affectionate good-night.   I first came across the Journal a few years ago in the library of the Athenaeum of Portsmouth, New Hampshire:  a venerable institution, founded in 1817, in many ways a parallel to the Yorkshire Philosophical Society and other 'Lit and Phils', although perhaps more 'Lit' than 'Phil'.
Our story begins with Audubon's arrival in York on Sunday April 22nd 1827. "Left Newcastle at eight, the weather cold and disagreeable, still I preferred a seat on top to view the country". His fellow-passengers were dull company: "not a word … spoken except an occasional oath at the weather", and after passing through York's "disgustingly crooked and narrow" streets the travellers were deposited at the Black Swan and made a bee-line for the fire. Audubon, "anxious to find lodgings not at the Black Swan" immediately went to the Rev. William Turner, son of a gentleman I had met at Newcastle" and was soon installed at Mrs Pulleyn's in Blake Street, commenting on his hosts – only in his journal, one hopes – that Mrs P. "looks like a round of beef, [Mr P] like a farthing candle", their relative weights being "as one pound advoirdupois to one ounce apothecary".   (I make this a ratio of around 14:1).
The first evening in York concludes with a heartfelt "Oh that I were in Louisiana, strolling about the woods, looking at the gigantic poplars for new birds and new flowers!"
Peter Hogarth
Image: John James Audubon in 1836
To be continued … or see our February newsletter here.  (Members should already have received a copy of this either by post or email.  If you haven't, please let us know.)