'Monarch of the Glen' currently on show at the National Gallery was once owned by YPS member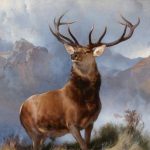 Sir Edwin Landseer's famous painting 'Monarch of the Glen' was once owned by a YPS member, Albert Denison, Lord Londesborough. This majestic picture of a stag had been commissioned for the House of Lords, but on completion in 1851 it was rejected. Denison, who had only recently taken a seat in the Lords, bought it from the artist for 350 guineas.  It is currently on show at the National Gallery in London, on loan from the Scottish National Gallery until 19 Feb 2019.
Albert Denison, politician, diplomat, connoisseur of the arts and archaeologist, had been born Albert Denison Conyngham in 1805, the son of a marquess and a future mistress of George IV. He changed his name simply to Denison, his mother's maiden name, when he inherited the vast wealth of her brother, a banker, in 1849. Six months later he was created 1st Baron Londesborough. He acquired estates at Londesborough Park, near Market Weighton (from George Hudson), Selby, and Grimston Park near Tadcaster, which became his country seat. A Fellow of the Royal Society and of the Society of Antiquaries, he was elected to YPS in 1852, immediately being nominated a vice-president. According to the Oxford Dictionary of National Biography, he was about 6 ft 4 in tall, thin and dark, described by his grandson Osbert Sitwell as "like a comb, all teeth and backbone". He had two sons and four daughters by his first wife, who died in 1841, and four sons and two daughters by his second. Highly strung and latterly suffering poor health, he died at his London home in 1860, and was buried at Grimston Park.
The 'Monarch of the Glen', one of the most recognisable pictures of the 19th century, was sold by Denison's widow in 1884. It was subsequently bought in 1916 by Dewars distillery and later used for advertising purposes. In the 1960s it became the trade mark for Glenfiddich whisky. Opinions are divided on the image of Scotland it now presents, but in 2017 Diageo Ltd, which had earlier acquired Dewars, offered it to the National Galleries of Scotland for £4million, half its estimated value, and a fund-raising campaign successfully saved it for the nation.