What's on : Activities
Event Information
This day trip will leave Memorial Gardens at 8.15 am, and offers a  morning visit to the Manchester Museum of Science and Industry (free roaming around), followed by an afternoon boat trip on the Bridgewater Canal. Cost £37 plus optional tea – see below

On entering the Museum we come face to face with the 20th century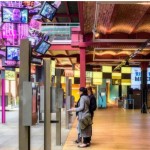 before encountering the wonders of the 19th.  As we thread our way through Manchester's rich legacy of industrial innovations, scientific discoveries and ideas that changed the world, we come across 'Cottonopolis' and discover why small is beautiful in Manchester, as well as engineers like Joseph Whitworth and Richard Roberts who helped the wheels of industry to turn and made Manchester into a global powerhouse.  If you are interested in energy, step into the pioneering work of James Joule, then tinker with the Museum's nuclear fusion machine. Have you ever wanted to fly your own jet? You can get the chance in their Air and Space Hall with the interactive flight simulator which allows you to do just that.  We can view and listen to a thunderous demonstration of the historic working mills' machines of 150 years ago, showing how cotton was processed from its raw state to the finished product. We also learn about the working conditions during a time when respiratory diseases were rife and children as young as 5 were employed as mill workers.
The Bridgewater Canal
After lunch at the Museum, we travel by coach to nearby Worsley to pick up the canal boat for our trip on the Bridgewater Canal built by the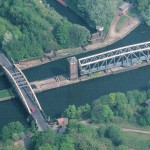 3rd Duke of Bridgewater and opened on 17th July 1761 between Worsley-Manchester.  Canals were nothing new to the Duke as he owned several inside his mine in Worsley which had been carting coal to villages nearby for 350 years. This canal has a special place in history as the first canal in Britain to be built without following an existing watercourse and marked the beginning of the golden canal building era in England. The cruise will include the sights of the spectacular Barton Aqueduct.  A splendid afternoon tea is offered on our return journey (optional and bookable in advance) – see below for price and menu.
For more information, on the cruise, please look at the website: http://www.canaljunction.com/canal/bridgewater.htm
The booking form for this event will be issud in the February newsletter, and will shortly be downloadable here.
Afternoon tea costs £9 and consists of:
A selection of freshly made sandwiches
Freshly baked fruit scones
Cornish clotted cream
Locally produced conserves
A selection of petit fours for example:
Apple Tatins, Vanilla and chocolate layer cakes, Almond Cakes with Orange Dome and Crystallized Orange Peel, Almond Cakes with Red Fruit Jelly and Raspberries, Chocolate Tartlets, Raspberry Macaroons, Hazelnut Puffs, Mini vanilla slice, Chocolate éclair
Tea or Filtered Coffee