What's on : Activities
Event Information
with an option to visit Ryedale Folk Museum
Wedesday 25 May 2022 – start 10.30 am at Rosedale
Now fully booked – we will create a 'waiting list' for further applications
Cost £5 pp – £2 YPS admin fee and £3 contribution to Scarborough Archaeological and Historical Society . Lunch at own cost in Hutton le Hole – or packed lunch
The start will be reached by private car, driving from Hutton le Hole to the carpark on Rosedale Top – no need to tackle the steep chimney road.
Most members will be familiar with the beautiful scenery of Rosedale, in the North York Moors National Park. Not all will know that, for part of the nineteenth century, it was the scene of a flourishing mining industry. In lockdown, Scarborough Archaeological and Historical Society produced an excellent video tour  https://youtu.be/fNkftC6k6hU, demonstrating this, and subsequently published a new edition of their book 'Rosedale Mines and Railways', which was reviewed in our November newsletter.
Chris Hall, the presenter in the video, has agreed to guide a YPS group on an easy, relatively level, section of the walk shown near the end of the video, though stout shoes should be worn. We will be able to look at the railways, kilns and cottages on Rosedale top, which will give a picture of the lives of the men who spent their lives processing and transporting the iron ore mined in the pits below, the women who shared their lives, and the engineering required, in this remote and rugged area, to transport ore from the mines to the kilns, process it, and send it away to the blastfurnaces.
The tour will finish around lunchtime, and we can then return to Hutton le Hole for lunch, and for those who wish to visit the lovely Ryedale Folk Museum. See https://www.ryedalefolkmuseum.co.uk/
To book, please return the booking form to the Lodge with your cheque, (made out to Yorkshire Philosophical Society – in full). or send the form by email to info@ypsyork.org and pay by Paypal at https://www.ypsyork.org/donate-to-yps/
YPS terms and conditions apply. See the website at  https://www.ypsyork.org/groups/social-group/yps-activities-booking-terms-conditions-2/  or ask at the Lodge
………………………………………………………………………………………………………………………..
Member's report
From my teenage years I recall Rosedale Top's dominant 100-foot chimney, a long-standing, high-standing landmark visible for miles around. Its extreme height stemmed from a condition placed by the landowner on the builder that his grouse should not be disturbed; when the job was completed the builder was so delighted that he performed a jig on its windy top.
Sadly, Rosedale Top Chimney disappeared without a trace almost exactly half a century ago on 27 July 1972, demolished following a lightning-strike. So when thirty hardy YPS members arrived for an historical hike on an extremely windy Wednesday morning recently, there was no high-board left for dancing and the only grouse we heard concerned the weather.
This excellent hike was organised by Margaret Leonard of YPS and led by Chris Hall of Scarborough Archaeological and History Society (SAHS). Chris was also involved in producing a 24-minute video which can be viewed at  https://youtu.be/fNkftC6k6hU  as well as in the updating of a book entitled Rosedale Mines and Railway (2021, 160 pages, £8, authors Hayes and Rutter). Both are excellent and published by SAHS; the book was reviewed by Margaret Leonard in the November 2021 YPS Newsletter and is relied upon for much of the information cited here. It will soon be in the YPS Library.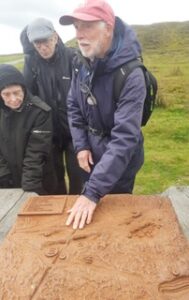 The hike started by the kilns with a brief overview from Chris using the newly-created notice-block of nicely-rusted iron, moulded to show the surrounding terrain and buildings – an annotated 3D map, in effect. We then explored the inclined plane which links the kilns at Rosedale Top to Hollins Mine in the valley bottom 400 feet below. The plane is half a mile long, so the gradient is about 1 in 6. (For local maps see Hayes and Rutter, pp. 37 and 59. The plane at Ingleby, a few miles north, according to Historic England is 65 chains long, or 13/16 of a mile.) The Rosedale Top inclined plane was in action for only a short period, 1861 to 1885, as Hollins Mine ran out of iron ore in the mid-1880s, forty years before the lesser-grade ore on the east side of the valley.
From the plane the group then climbed back to the calcining kiln ruins, where the ore was mixed with coal in the ratio 26:1 and burned to remove impurities and reduce its weight by half. It was then removed via the specially constructed railway network to blast furnaces first in Durham and later in Cleveland.
After a consideration of economic history with its associated chemistry and technology, we then moved further up the hill to contemplate Rosedale's social history, particularly the houses built for the workers and their families, who numbered up to 3000 at its maximum. Their work and environment were tough – one wonders what the survival rate was for those poor souls obliged to weather a Rosedale winter – although the houses which remain appeared to us to be of surprisingly high quality. (Each house had its own henhouse and pigsty; some were used post-war as a Youth Hostel.) A weather record from Whit Monday (28 May) in 1860 is highly salutary: "Terrific storm all over England. Trees and chimneys blown down. One million sheep died following the rainiest summer and autumn ever remembered. Snow fell every month in Yorkshire except July! All hay spoilt and no turnips."
Finally, Chris led us to the unmarked site of the now absent chimney and up to the "Steam Reservoir" which held the water that made the steam that ran the engines that pulled the trucks that carried the ore that made the iron that built the British Empire.
This trip's fertile intermingling of industrial with rural history illuminated an important theme which still surprises. It differs substantially from the standard gloomy Engelsian stereotype of early proletarian Manchester and our engagement is often intellectual rather than emotional. However, we must remember that such hard lives continue today as in the exploitation of iron mines and iron miners in contemporary Brazil, or gold and diamond miners in Central Africa. It is difficult or impossible to imagine what life is like there, or was like working in those Rosedale mines. This trip proved a salutary reminder of our distance and privilege.
In conclusion, we must thank Chris and SAHS for the excellent tour as well as for their book and video both of which certainly added value to the visit. Food for thought perhaps by YPS. Hopefully this event is the first in a series of further joint activities with SAHS and similar nearby bodies. As ever, we remain indebted to Margaret Leonard and her stalwart team of event organisers for the amazing range of events they provide.
John Bibby
Photo: John Bibby