What's on : Activities
Event Information
Thursday 6th July 2023 Meet at 8.20 am, Cost £45 pp
*Cost includes coach, entrance fees and tea/coffee and cake at Farnley
(Lunch at own cost in Otley Garden Centre)
Shibden Hall – home of 'Gentleman Jack'
Many of us may have watched the BBC drama Gentleman Jack, based on the real Anne Lister (1791-1840) who lived at Shibden Hall.  The Hall dates back to 1420 and offers visitors a fascinating insight into the people who lived and worked here, including Anne herself.  Shibden Hall has a Tudor frontage but its architecture is a mixture reflecting its varied history.  The Hall is surrounded by beautiful gardens and park with a boating lake. Sadly, there are some accessibility restrictions: there is a long uphill walk from the coach to the entrance, and restricted access for wheelchair users. The historic barn is accessible to a degree, but there are uneven cobbles on the floor. The Folk Museum is not wheelchair accessible. An accessible toilet is available.
ⴕFarnley Hall and JMW Turner
Farnley Hall is not generally open to the public, so this is a rare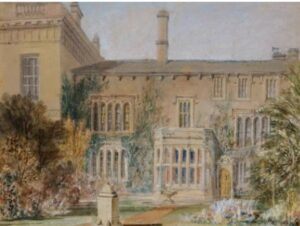 opportunity to visit this beautiful house in its tranquil setting, and view the collection of paintings by JMW Turner, a frequent visitor in the early nineteenth century. John Ruskin described the hall as 'a place where a great genius has been loved and appreciated, who did all his best works for that place…'
The building we shall visit is in two parts. The four-square block at the south end was built by John Carr of York. Adjoining it to the north is the older wing, now used as a separate house.  Dating from the late 16th or early 17th century, it was built by the Fawkes family, who had lived in the area since the 13th century. The conspirator Guy Fawkes was descended from them, and a branch of the family still lives in the Hall – our host is Guy Horton-Fawkes!
ⴕNote – There are two Farnley Halls in Yorkshire. This is in North Yorkshire, the other in West Yorkshire.
*Catering. Limited opportunities at Shibden, though coffee is available at reception. Lunch (own cost) at Otley Garden Centre, and tea or coffee and cake is included at Farnley.
Transport will be by York Pullman coach, boarding at Memorial Gardens at 8.20 am
To book, please return the booking form below to the Lodge with your cheque, made out to Yorkshire Philosophical Society (in full) or send the form by email to info@ypsyork.org and pay by Paypal at https://www.ypsyork.org/donate-to-yps/
YPS terms and conditions apply. See https://www.ypsyork.org/groups/social-group/yps-activities-booking-terms-conditions-2/  or ask at the Lodge
…………………………………………………………………………………………………………..
Shibden and Farnley Halls – 6th July 2023
To:  Margaret Leonard c/o YPS, The Lodge, Museum Gardens, York, YO1 7DR
Please reserve …….. place(s) for me/us at £45 each.
A cheque for £ …..… made out to Yorkshire Philosophical Society is enclosed OR Payment has been made by Paypal
Name(s) ………………………………………………………………………………………………………………………………………………………
Address ………………………………………………………………………………………………………………………………………………………
Tel. No. …………………………………..…………………………………Mobile…………………………………..…………………………………
(A mobile number is very useful if we need to contact you on the day)
Email*…………………………………………………………………………..…………………
*Acknowledgement will be by email. Please enclose SAE if postal acknowledgement required instead.