What's on : Activities
Event Information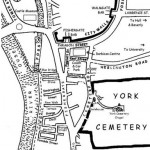 Thursday 21st June 2018 7.30pm
Cost £6
An evening stroll on the Summer Solstice round York Cemetery, led by Clive Dawson and Neil Bartlett of the York Cemetery Trust. http://yorkcemetery.org.uk/friends-of-york-cemetery.html
We will consider aspects of geology as exemplified by the rocks and building stones found in the cemetery and pay respects to early members of the YPS buried there.
Tea/coffee and biscuits will be served in the chapel afterwards. Cost includes donation to YCT.
Further information is available from Paul Thornley who is organising bookings. ypsgeology@gmail.com
YPS terms and conditions apply. See the website https://www.ypsyork.org/groups/social-group/yps-activities-booking-terms-conditions-2/  or ask at the Lodge.