What's on : Activities
Event Information
5 DAY TOUR OF NORFOLK, 16 to 20 JUNE 2019
Cost £509 pp sharing, £50 singles supplement.
We will be based in the excellent 3-star Links Country Park Hotel, just outside Cromer. Costs include gratuities and YPS administration costs, but exclude entry to NT, EH properties, and refreshments apart from dinner and breakfast at the hotel.
Outline Risk Assessment. Risks are generally expected to be consistent with coach travel and normal tourist attractions, and require some walking and climbing steps and stairs. Higher mobility will be required for climbing in and out of the small boats at Hickling Broad. Please note any special requirements on the booking form.
Please note- it has been agreed to separate the costs that are covered by JFG and YPS respectively, and YPS is modifying its Terms and Conditions to reflect this change -see https://www.ypsyork.org/groups/social-group/yps-activities-booking-terms-conditions-2/uk-multi-day-terms-and-conditions/ The booking form gives a summary, and requires a separate cheque for £35 payable to the YPS.
Sunday 16 June 2019.
0845 dep York
Belton Gardens (NT) plus lunch at own cost.
Seahenge Exhibition in Kings Lynn
Monday 17 June 2019
Scenic drive, including Cromer, en route to Holkham Estate.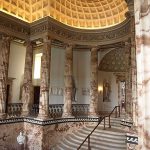 Holkham Estate. Elegant 18th C Palladian style house, based on designs by William Kent, Gardens, farming history, cafe etc
Walsingham. Anglican Shrine, Shirehall Museum & Bridewell Prison, Abbey ruins, Roman Catholic Shrine.
Tuesday 18 June 2019.
Sutton Hoo. Major Anglo Saxon ship burial site, displays being extended before our visit. Burial sites are a short walk from the Visitors' Centre.
Woodbridge Waterfront Museums – early stages of replica Sutton Hoo ship, local shipbuilding history etc.
Woodbridge Tide Mill – a very rare example.
Wednesday 19 June 2019.
Norwich Cathedral – Guided tour. Peregrine falcon observation point, Herb Garden and Labyrinth.
Hickling Broad NNR. Birdwatching from 12 seater boats. Many walks and hides. Good chance of seeing swallow tail butterflies.
Thursday 20 June 2019
Kings Lynn water front. Choice of many historic buildings to see (self guided).
Southwell Minster/Cathedral (self guided)
1845 arr York (time very subject to traffic).
For further details, contact  Rod Leonard, c/o The YPS, The Lodge, Museum Gardens, York YO1 7DR  or via  info@ypsyork.org  If you do not have email, please enclose a SAE
To book, download the booking form by clicking here:-JFG Norfolk booking form.You will also need to download the insurance form by clicking here:- JFG Insurance form  When completed, the forms, with the appropriate cheques, should be sent to Rod Leonard, at the above address