What's on : Activities
Event Information
Cawood, Stillingfleet and Naburn Locks –with an optional visit to Saturn
– all via the B1222!
Thursday 20th April – Cost £8
This event is now fully booked; please contact us to be placed on the waiting list.
Own transport* – meet at Cawood Castle at 10.30 am
Over lockdown, local historian David Lewis set himself the project of documenting many fascinating stories about the places linked by this quiet B 1222 road. The resulting book – 'Rhubarb, Royalty and Rings of Saturn' is the inspiration for this tour, which visits just three of the sites in the book.
Cawood, now a quiet village with a swing bridge crossing the Ouse, is the site of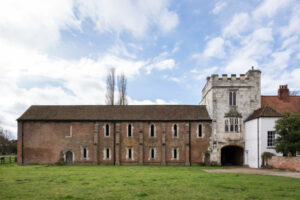 Cawood Castle, home to the Archbishops of York before the Reformation. It was the scene of many royal visits, and the site of Cardinal Wolsey's downfall. Only the gatehouse and attached great hall  remain, but we can take a short walk in Castle Garth, the park covering the ruins. Interestingly, the Landmark Trust manages the gatehouse as holiday accommodation – see
https://www.landmarktrust.org.uk/search-and-book/properties/cawood-castle-6033
At Stillingfleet, our next stop, we will see the C 12th St Helens Church, where the 'exceptional' south doorway is richly carved with traditional Norman symbols. such as chevrons, beak heads, and foliage patterns. Parish Councillor John Cook has offered to show us round the interior, where there is much more to see, including a remarkable door that may predate the church by as much as two centuries. More information at https://www.britainexpress.com/counties/yorkshire/churches/stillingfleet.html
Naburn Locks Managed by the Canal & River Trust, this fascinating area includes a nature trail and sensory garden as well as the old canal buildings such as the forge, workshop and lock keeper's cottage. Rather more surprisingly, there is an adjacent Banqueting Hall – once derelict, but now brought back to life as a vegan café, where we will have lunch (at own cost) We will have a guided tour of the workshop, and an opportunity to explore the nature trail.
https://canalrivertrust.org.uk/places-to-visit/naburn
Optional Extras
A short drive from here, you can join the York Solar System cycleway to see 'Saturn' and the 'Fisher of Dreams' sculpture on the bridge spanning the Ouse.
https://www.york.ac.uk/physics-engineering-technology/outreach/astrocampus/cycle-solar-system
Alternatively, you could take a quiet walk along the towpath to Naburn.
*Transport
If you do not have your own transport, but would like to take part, please contact us using the form below, and we'll try to help
Parking
We will contact you later with details
Lunch
We will contact you later about food choices
Booking
To book, please return the booking form  to the Lodge with your cheque, made out to Yorkshire Philosophical Society (in full) or send the form by email to info@ypsyork.org and pay by Paypal at https://www.ypsyork.org/donate-to-yps/
You can download a copy of the form in Word by clicking here B1222 FLyer
YPS terms and conditions apply. See the website https://www.ypsyork.org/groups/social-group/yps-activities-booking-terms-conditions-2/  or ask at the Lodge
Acknowledgement will be by email*.
if postal acknowledgement required instead. Please enclose SAE
……………………………………………………………………………………………………………………………………..
Cawood, Stillingfleet and Naburn Locks
To:  R & M Leonard, c/o YPS, The Lodge, Museum Gardens, York, YO1 7DR
Please reserve …….. place(s) for me/us.       Could you offer a lift to someone without transport? …………………
Or do you need a lift? …………………………………………………………………………………………………
A cheque for £ …..… made out as above is enclosed /Payment has been made by Paypal
Name(s) ………………………………………………………………………………………………………………………………………………………
Address ………………………………………………………………………………………………………………………………………………………
Tel. No. …………………………………..…………………………………Mobile…………………………………..…………………………………
(A mobile number is very useful if we need to contact you on the day)
*Email  …………………………………………………………………………..…………………
[ML1]