What's on : Activities
Event Information
Tour of Hemp Farm at Hornington Manor and visit to Bolton Percy
 Wednesday 14th June
Cost: £10 per member, £15 non-members.
Travel by car to arrive at Hornington Manor for a prompt start at 10am.
Hemp is a remarkable product with a wide range of useful properties and uses, such as rope making, basket weaving, clothing, mattresses, medicinal uses and recreational drugs! The hemp farm at Hornington Manor produces hemp for luxury bed mattresses for John Lewis among other things. In our tour of the factory by the manager, we learn about the history, growth, properties and uses of hemp, what is produced in the factory and history of the business in Yorkshire and have time for questions.
We then drive to Doylys cafe, just up the road in Bolton Percy, for a light lunch. There is a large designated car park. Doylys cafe offers a good selection of quality, wholesome, simple options including: soup, sandwiches, jacket potatoes, simple dishes, cakes and beverages. You choose and pay for your lunch on the day.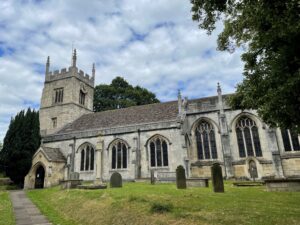 At All Saints Church, Bolton Percy, we explore its history and that of the village and its connection with the Percy family, with a local guide. There are also several interesting historical buildings nearby. We walk to the Cemetery, an international war graves cemetery and a beautifully tended wild garden, before wending our way home around 4pm.
You can download a Word version of this flyer by clicking Bolton Percy FLyer
To book, please return the booking form below to the Lodge with your cheque, made out to Yorkshire Philosophical Society (in full) or send the form by email to info@ypsyork.org and pay by Paypal at https://www.ypsyork.org/donate-to-yps/   YPS terms and conditions apply. See the website https://www.ypsyork.org/groups/social-group/yps-activities-booking-terms-conditions-2/  or ask at the Lodge
…………………………………………………………………………………………………………………………
Member's report
Our first stop was Hornington Manor where we were welcomed by John of Harrison Spinks, growers of hemp for the past 10 years. Given the nature of the plant and its association with recreational drugs, cultivation is heavily regulated. Harrison Spinks have a partial licence which allows them to grow and process hemp fibre, the outer layer of the plant which is extremely resilient, strong and durable.  Hemp takes approximately four months to mature, and can grow to up to sixteen feet before it is harvested. It is then left in the fields to break down the fibrous content, a process known as 'retting'. Once retted, it is baled and taken to the farm factory to be processed into fibre before being taken to the Leeds factory to be made into a filling pad ready to be integrated into mattresses.
Although not an initial concern of the company, hemp is very environmentally friendly as it requires no pesticides or herbicides, making it a carbon-negative raw material and this is a feature which John was keen to emphasise. The waste product is either ploughed back into the hemp fields or recycled into biomass and used to heat Hornington Manor, now used as a wedding venue. The woody central part of the plant is sold as a by-product for animal bedding or used to make 'hempcrete', a breathable and temperature-regulated building block produced by mixing hemp with limestone.
After lunch in Bolton Percy we visited both the cemetery and the church in two groups. In the cemetery we were shown round by Janet who, with a small group of fellow volunteers had built on the work of Roger Brook, a former lecturer at Askham Bryan, but with less emphasis on spraying. In spite of the recent drought, the garden was full of colour-a mixture of the wild and the cultivated. All Saints Church, just across the road, was built in 1424 in the perpendicular style and has some fine features including Jacobean boxed pews, a stone altar or 'mensa', and some 15th century glass in the tracery. Signs of mutilation by Cromwell's soldiers can also be seen in the chancel. A recent brass plate to Andrew Marvell has been installed to commemorate his time at Nun Appleton House close by. Perhaps the most striking feature, though, is the Millenium window created by Thomas Denny who drew his inspiration from the Ings, an excellent example of the way in which modern glass can complement a mediaeval building.
Our thanks to Sharon Lusty for organising such a fascinating trip.
Dorothy Nott