Jonathan Hutchinson
Sir Jonathan Hutchinson (1828 – 1913) – Medical expert and founder of museums
By David Lewis
To modern sensibilities, Hutchinson occupies a Pythonesque position. A bewhiskered Quaker patriarch, reading the Bible every day before dawn, touring the Empire to return with fossicks and fossils to edify the unlearned : why,  the man's straight from central casting !   Our modern sensibilities would, however, sadly misjudge this gentle giant of a Yorkshireman. Born the second son of a cloth-trading Quaker family of 12, the riverside site of his birthplace is marked by a Selby Civic Society blue plaque: it is now the site of the offices of Westmill Foods. Educated by governesses, by the age of 20 he was "a reserved and gloomy Quaker … full of self-denial  …. and a puritanical workaholic"
Hutchinson was fired by a desire to improve the lot of the poor, and from an early age decided he would do this in the field of medicine. His medical training saw him apprenticed to an apothecary, Caleb Williams, in York, along with further training in both Yorkshire and at St Bartholomew's in London. As a student, he was noted for the clarity of his vision and accuracy of description of medical practice.
In 1850 Hutchinson became a member of the Royal College of Surgeons, and by the mid 1850s, was earning his living by writing articles for a medical paper as well as running a small general practice. In July 1856 married Jane West, which was to prove a happy and fruitful union, lasting until Jane's death in 1887, and producing 10 children.
His medical interests focussed on the human nervous system in all its guises: combining his faith and his experiences of life in London, he came strongly to believe that the study of sexual diseases was vital to promote good health in the poorer sections of society.
Medical honours came to Hutchinson throughout his career. He was elected a Fellow of the Royal College of Surgeons in 1862 and at various times was President of the Hunterian Society; the Pathological Society; the Ophthalmological Society; the Neurological Society, and the College of Surgeons itself. Elected a Fellow of the Royal Society in 1882, and a member of Royal Commissions concerning provision against smallpox and leprosy, Hutchinson had a glittering career. However the focus of this piece is on a scientist's Yorkshire roots. So, noting his formidable medical record, we must move to the benefactions he brought to his home town.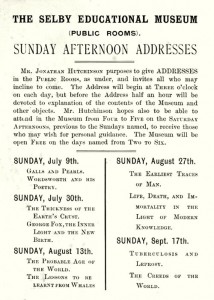 By the 1880s, the Hutchinsons had settled in Haslemere, Surrey. He had already undertaken tours of Africa and Asia, returning with animal specimens, minerals and fossils. Following Jane's death, Hutchinson decided to open an "Educational Museum" in outbuildings on his farm. There, he not only put these objects on display, but lectured on a huge variety of topics. Sample subjects included 'The Thickness of the Earth's Crust'; 'The lives of the English poets'; 'Tuberculosis and Leprosy' and 'The Earliest Traces of Man'. This latter topic caused some controversy with fundamentalist church views clashing with Darwinian evolutionary ideas.
The museum in Haslemere was a great success – and still exists to this day. Hutchinson decided to open a similar venture in Selby in 1898, (the building still exists although the museum closed in 1963. I have photos of now and then) maintaining that "a museum without a lecturer is like a church without a minister". However, local paper, the Selby Times was less sure, thundering "Hutchinson calls into question the very foundations of our faith….we have abstained from taking much notice of his lectures".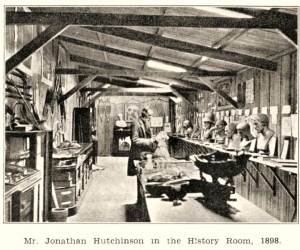 The provision of the museum was a great boon to intellectual life in Selby. Not only were the exotic exhibits displayed, but a reading room and library were provided. Hutchinson also came to Selby's aid after the fire of 1906 destroyed the Abbey's roof, he gave space in the museum for storage of artifacts during reconstruction.
In his professional role he continued to study sexual diseases, and syphilis in particular, but his views were becoming old fashioned. Views such as  insistence on abstinence, that circumcision was the most effective way to reduce sexual disease in men and that leprosy could stem from rotting fish were gradually disproved by more strictly scientific approaches. Hutchinson's career showed two key dilemmas. Although a devout Quaker, he came to believe in the truth of evolution over creationism. Whilst renowned for the accuracy and logic of his observations, he still propounded medical cures based on unreliable evidence. He was knighted in 1908 "for distinguished service to medicine", and lived quietly in Haslemere until his death in 1913. The Selby Times was more forgiving in its obituary "He made Selby think twice – and second thoughts were often best".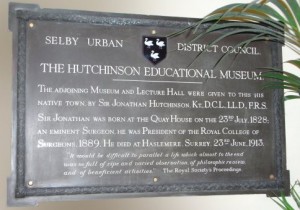 To find out more:
McCusick, V.A. The Clinical Legacy of Jonathan Hutchinson.  National Center for Biotechnology Information www.ncbi.nlm.nih.gov
Haslemere Educational Museum   www.haslemeremuseum.co.uk
Image Credits: [1] Images courtesy of Haslemere Educational Museum; All other images by David Lewis.